Zadnje novice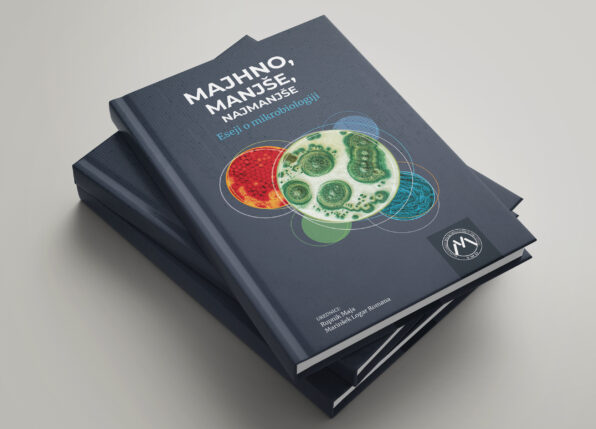 Izšla je dolgo pričakovana knjiga esejev o mikrobiologiji, pripravljena ob 60. obletnici SMD. V knjigi Majhno, manjše, najmanjše člani SMD v devetih poljudnih esejih opišejo svoje poglede na mikroorganizme in področje, s katerimi se ukvarjajo. Prav tako ne manjkajo številni fotografski portreti mikroorganizmov. Tudi če ste mislili, da veste vse o mikroorganizmih in mikrobiologiji, vas bo čakalo kakšno presenečenje. Naša želja je bila, da je tekst dovolj razumljiv tudi ne-mikrobiologom. Po eni strani je knjiga namenjena predvsem njim, saj želimo prikazati, da so mikroorganizmi morda res neopazni, a vendar nepogrešljivi in koristni.
To je knjiga, ki bo razveselila vsakega mikrobiologa! In to je knjiga, ki jo vsak mikrobiolog lahko podari vsaj enemu znancu, ki ni mikrobiolog!
Naročila in nakup sta možna preko SMD.
NAROČILO KNJIGE Majhno, manjše, najmanjše
Cena knjige je 15 EUR. Za oddajo naročila, prosimo, pošljite spodaj naštete podatke na naslov smd.knjiga@gmail.com (podatki bodo uporabiljeni izključno za pripravo računa in pošiljanje pošiljke).
Ime in priimek
Elektronski naslov
Izberite, ali želite knjigo prejeti po pošti, ali jo boste prevzeli osebno pri Romani Marinšek Logar (BF UL, Oddelek za zootehniko, Domžale), Tjaši Cerar Kišek (IMI MF UL, Ljubljana) ali Maji Rupnik (NLZOH, Maribor).
Naslov za pošiljko
Naslov za račun (če je drugačen)
DŠ (samo, če je naročnik pravna oseba)
Število izvodov (cena enega izvoda je 15 EUR)
Po oddaji naročila boste po elektronski pošti prejeli račun. Po plačilu računa vam bomo knjigo poslali po pošti ali pa jo lahko osebno prevzamete pri štirih članih društva na različnih lokacijah v Ljubljani in Mariboru.