Zadnje novice
novica objavljena
10.05. 2023
Spoštovani,
9. SMD kongres, ki je bil načrtovan za 13.-15.9.2023, je sedaj prestavljen na naslednje leto, in sicer 14.-16.2.2024. Kongres bo potekal v hotelu Habakuk, Maribor.
V kratkem sledi več inofrmacij!
novica objavljena
10.05. 2023
Spoštovane članice in člani društva SMD!
Vljudno vas naprošamo, da do konca maja 2023 poravnate članarino za tekoče leto 2023. Redna letna članarina za zaposlene člane (redno zaposlene, mlade raziskovalce) znaša 20,00 EUR; za nezaposlene člane, študente in upokojence 5,00 EUR.
Plačilo lahko izvedete z univerzalnim plačilnim nalogom (UPN) ali preko naloga s QR kodo (več informacij pod zavihkom Članstvo). Pri plačilu s QR kodo po skeniranju v polju Znesek po potrebi spremenite znesek glede na vaše dolgove, v polje Namen plačila dopolnite priimek in začetno črko vašega imena.
novica objavljena
28.03. 2023
Zdravstvena fakulteta na Univerzi v Ljubljani razpisuje mesto mladega raziskovalca s področja razvoja različnih tehnologij za čiščenje odpadnih voda z namenom ponovne uporabe vode ob hkratnem zmanjševanju možnih okoljskih in zdravstvenih tveganj.
Več informacij v priponki: Razpis za MR
novica objavljena
28.03. 2023
Spoštovane članice in člani SMD!
Upravni odbor Slovenskega mikrobiološkega društva sklicuje redni občni zbor SMD in sicer včetrtek, 30. marca 2023 ob 15.00 preko videokonferenčne povezave https://bf-uni-lj-si.webex.com/meet/marjanca.starcic.erjavec
Dnevni red občnega zbora:
Otvoritev občnega zbora in imenovanje organov
Predavanje dr. Mitja Zdouc: Applying the FERMO analytical platform in antibiotic screening of bacterial extracts
The worldwide increase in anti-microbial resistance calls for the development of new antibiotics. Microorganisms are prolific producers of antibiotics, but the screening for new anti-microbials is complicated by the common re-discovery of already known molecules. Therefore, prioritization of candidate molecules with high probability of novelty is an essential step, which is currently limited by the low throughput of manual analysis. To accelerate the prioritization process, we developed FERMO, a dashboard application that automatically combines liquid chromatography mass spectrometry data of microbial extracts with bioactivity and other metadata. The FERMO analytical platform annotates detected compounds, correlates them with biological activity, estimates their novelty, and assesses the overall chemical diversity of the extracts. This allows to prioritize the most promising extracts and compounds in terms of diversity, novelty, and bioactivity, as demonstrated in a case study on actinomycetes. FERMO is open-source and freely available as stand-alone application for Windows, Mac, and Linux.

Poročila članov upravnega odbora o delu SMD v letu 2022
Zaključno finančno poročilo za leto 2022
Program dela SMD v letu 2023
Letni finančni načrt za leto 2023
Publikacije SMD
Razno
Z željo, da se na občnem zboru sestanemo v čim večjem številu, vas vse lepo pozdravljamo.
Upravni odbor SMD
novica objavljena
15.02. 2023
V letu 2023 SMD organizira prvo serijo online seminarjev, kjer bomo gostili domače in tuje strokovnjake iz področja mikrobiologije in sorodnih ved. Predavanja bodo potekala v angleškem jeziku in se bodo odvijala preko spleta na platformi ZOOM.
Prvo predavanje bo odprla dr. Tanja Đapa, postdoktorska raziskovalka na Centro Andaluz de Biología del Desarrollo (Španija), ki nam bo predstavila predavanje z naslovom Genetic adaptation of a gut keystone member to the good, the bad & the ugly diet.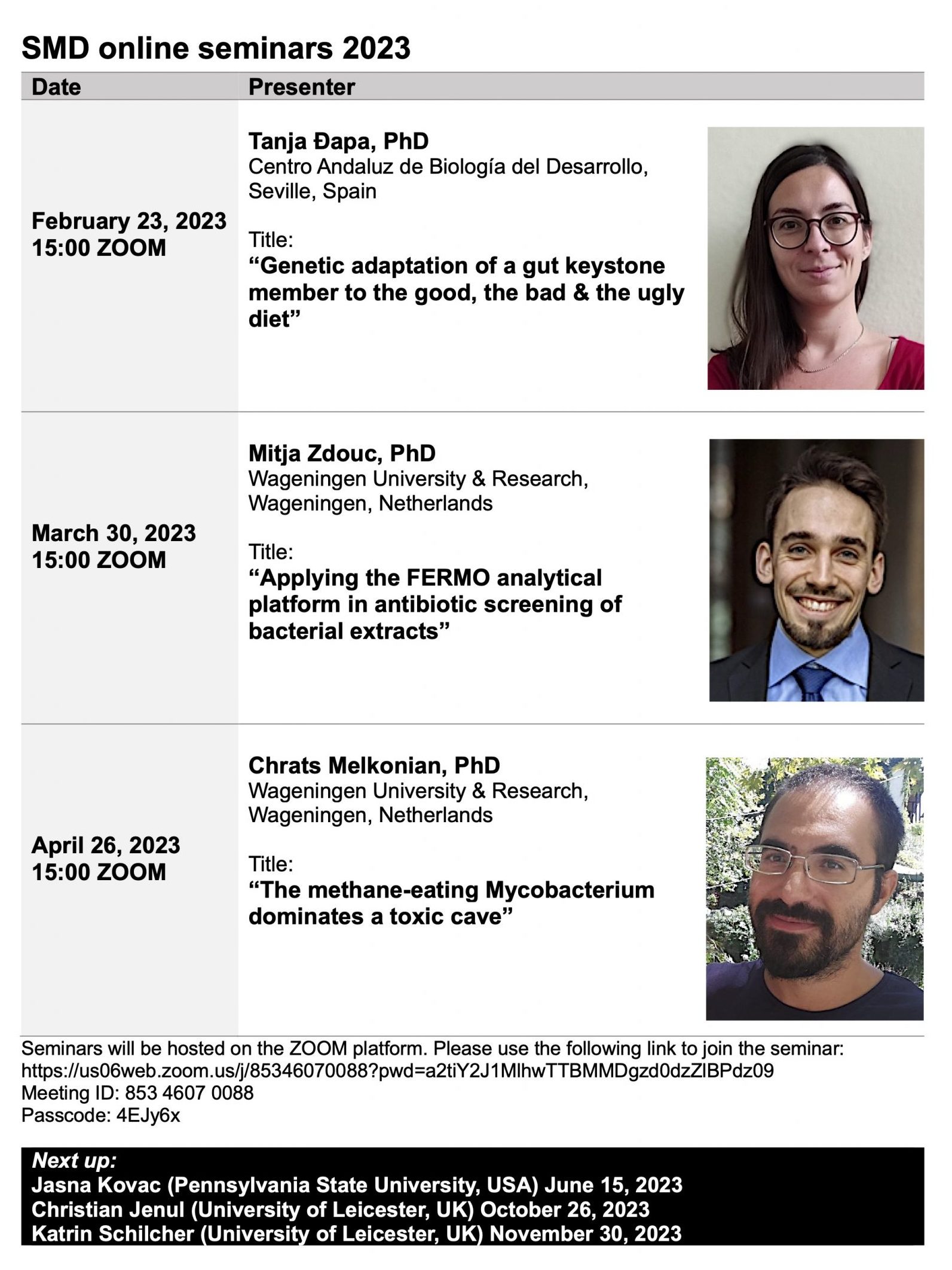 Vljudno vabljeni!
novica objavljena
18.01. 2023
Pozdravljeni!
Vljudno vas vabimo na minisimpozij o uporabi NMR v mikrobni glikobiologiji, ki bo v torek 24. 1. 2023 ob 10:00 v Veliki predavalnici Instituta »Jožef Stefan« na Jamovi cesti 39 v Ljubljani. Dogodek bo potekal v angleščini. Več informacij najdete v letaku.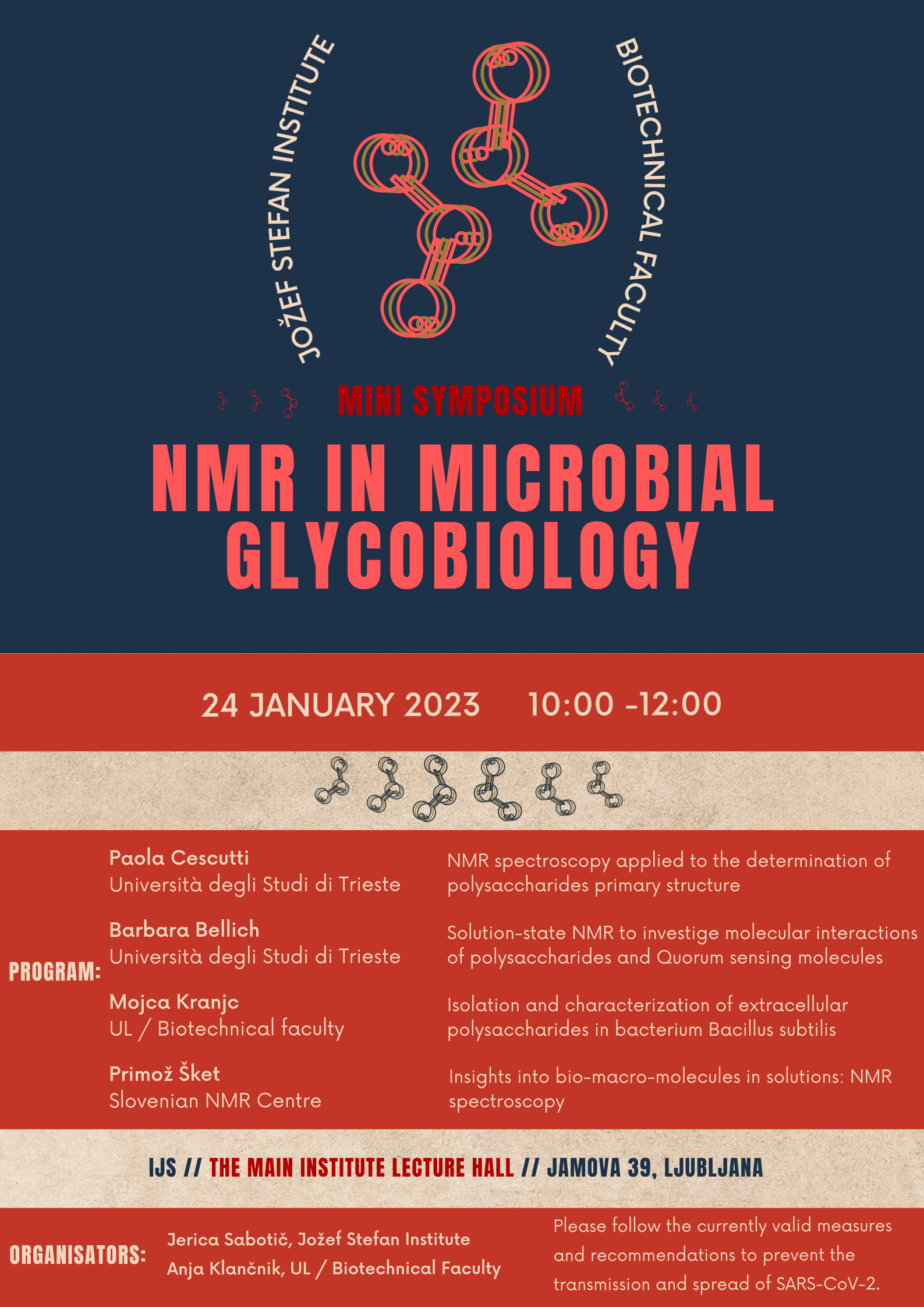 novica objavljena
04.01. 2023
Kolegi iz Hrvaškega društva za klinično mikrobiologijo vabijo, da se udeležimo njihovega srečanja, ki bo potekalo 15. maja 2023 v Zagrebu. Več informacij je na voljo v promocijskem materialu.
novica objavljena
20.12. 2022
Spoštovani,
Raziskovalci iz BF, FKKT skupaj z kolegi iz industrije, organiziramo 1. slovensko srečanje raziskovalcev bakteriofagov ang. 'First Slovenian Bacteriophage Meeting' ki bo potekal dne 23 januarija 2023 med 14:00-19:35, sledijo pregrizke in pijača do 21:30.
Program dogodka in link do registracije je tukaj:
https://www.bf.uni-lj.si/sl/dogodki/2022121410150440/1-slovensko-srecanje-raziskovalcev-bakteriofagov
Udeležba je prezplačna ampak je število udeležencev omejeno.
Lepo vabljeni!
novica objavljena
28.10. 2022
Spoštovani,
vljudno vabljeni na 13. Baničevo srečanje »RAZVOJ KLINIČNE MIKROBIOLOGIJE OD ZAČETKOV DO DANES«, ki bo 22. novembra 2022 ob 8:30 v Modri dvorani Zdravniške zbornice Slovenije.
Srečanje bo potekalo v hibridni obliki (v živo ter po spletni povezavi). Program si lahko pogledate tukaj. Prijavite se preko Zdravniške zbornice Slovenije: Domus medica.
V priponki vam pošiljamo vabilo in program. Za vse, ki boste srečanje spremljali preko spleta, vam pošiljamo povezavo:
https://us02web.zoom.us/webinar/register/WN_lYpqup0bQsug6z8fiUJQDg
Webinar Passcode 248366
Webinar ID 815 2263 0054
Lepo vabljeni in lep pozdrav,
izr. prof. dr. Tadeja Matos, predsednica Sekcije
novica objavljena
28.09. 2022
Spoštovani, vljudno vas vabimo, da se udeležite prvega simpozija na temo mikrobiomov v Sloveniji, ki bo potekal 24. novembra 2022 na Bledu. To bo enodnevni dogodek, s povabljenimi tujimi in domačimi strokovnjaki iz tega področja in bo prvotno namenjen povezovanju raziskovalnih skupin, ponujal pa bo tudi možnost mreženja z industrijskimi partnerji.
Več o simpoziju Slovenian Microbiome si lahko preberete na spletni strani: https://slovenianmicrobiome.net/.